Exclusive Fairmont 3 Night Quad PKG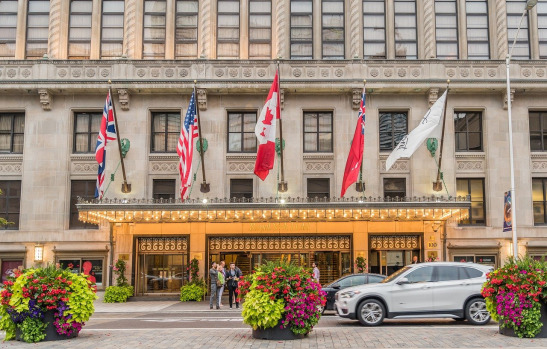 Choose
5 Events Out 16
with this Package
The Fairmont Royal York (5 Star Luxury Hotel) Location
Exclusive Fairmont 3 Night Quad PKG is per person and includes a 3 night hotel stay and 5 tickets of your choice for each person. Package requires 4 people to a room with Luxury Room - Two Double Beds.
Purchase Package
Please have your group leader confirm his or her payment first. The remaining group members will then be emailed a unique Group ID # and payment link to finalize the reservation.
The Fairmont Royal York (5 Star Luxury Hotel)
All Double packages include 1 King or Queen bed. All Triple and Quad packages include 2 Double Beds.

The Fairmont Royal York, a 5 Star Luxury Hotel located in the heart of the city, has everything you need for a memorable stay – opulent surroundings, a knowledgeable Concierge team, fine dining, state-of-the-art exercise facilities, plus so much more.

This luxury Toronto hotel is right in the heart of it all, steps away from the best nightlife, dining, shopping and other attractions. Conveniently located across from Union Station at 100 Front Street West within the financial and entertainment districts, located in close proximity to the majority of Caribana events.

The recent multi-million dollar guest room revitalization offers modern downtown comfort, in a historic Toronto luxury hotel. The newly re-designed rooms are a fresh, modern addition to the regal elegance that is synonymous with the hotel. Updates also include a renovated pool and health club complete with new exercise equipment.

We are connected by the underground PATH Walkway to approximately 1,200 shops, services and attractions, including the Hockey Hall of Fame, Scotiabank Arena (formerly Air Canada Centre), Eaton Centre and Union Station.

Contact

info@caribanatoronto.com

Tickets

Each person is able to select 5 events from 16 available choices.

People

This Package requires 4 people.

Room Detail

Luxury Room - Two Double Beds

Amenities

Hotel includes an indoor pool, newly renovated gym, restaurant/lounge, and WiFi. Recent hotel updates include a renovated pool and health spa, complete with brand new exercise equipment, new HDTVs in every room with upgraded services on demand. Rooms include alarm clock, iron, hairdryer, coffee/tea maker, bathrobes, telephone, work area.

Check In/Check Out

4pm Check In, 12pm Check Out

Notes

Black Friday Caribana 2024 Hotel Packages with tickets start at $200 per person. All value packages include tickets for each night. All exclusive packages include nightlife events, Daylit, and Sunday Blocko. Limited quantities are available. Black Friday sale ends on Monday, November 27th at 11:59pm.

Refund Policy

There are absolutely no refunds on hotel packages, please plan accordingly.
Frequently Asked Questions
What is the difference between the Exclusive and Value hotel packages?
The Exclusive packages are our most popular packages. The Exlusive packages allow you to choose from more nightlife event options and also include daylife event tickets. The Value packages only include one nightlife event ticket per person, per night.
How close are the hotels from the Caribana nightlife events?
All of the hotels included in our hotel packages are located in close proximity to the Caribana nightlife events. While most venues are located within walking distance, you may also decide to take a short cab ride to your destination. Some bigger events are located just outside of the downtown core, we suggest planning accordingly for an uber/cab ride to get to these events located at Rebel, or Cabana Pool Bar.

Are the hotel prices advertised on the website the cost per night?
NO! Please note that the prices listed on the website indicate the total cost PER PERSON (pre- tax) of your entire stay. This price entitles each guest to hotel accommodations for two (double packages), three (triple packages), or four nights (quad packages), depending on the package selected, as well as tickets to CaribanaToronto events.
Am I able to put down a deposit on my hotel room in order to reserve it?
No. If you are paying in portion payments, each member of your group must pay for their portion in full before the hotel room will be reserved. We advise all guests to complete their portion payments as early on as possible in order to avoid paying increased rates or disappointment in the event that a hotel package sells out. Please visit our "How It Works" page for more details on portion payments.
Do you offer payment plans for hotel packages?
No. We offer groups to pay via per person portion payments. For example, if you are selecting a triple package (for three people) there would be three portions to pay. Upon checkout, you can select the quantity of portions you would like to pay at once. If you select quantity one, you have paid for one portion of the room and will then be sent an email with a group payment link for your group members to pay their portions of the room. Paying via your unique group link will ensure your payments are grouped together towards the same room.
I am paying via portion payments. How do I ensure that my guests will be assigned to the same hotel room as me?
If you and your guests are paying separately, you must each ensure that you fill out the names of each group member prior to purchase. You will then receive a Group ID and payment link via email which you must share with the remainder of your group members. Once the remaining group members pay through their unique payment links you will be automatically matched in the same hotel room.

Do the hotels offer wireless Internet?
Yes, all of the hotels offer wireless Internet. However, some hotels may charge an additional fee per day for Internet access.