Carnival Lit
Friday August 2nd, 2019 @ Cube Nightclub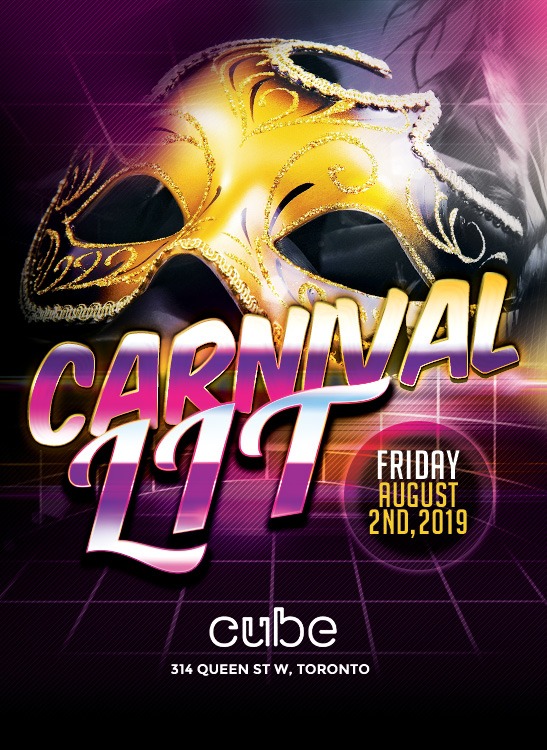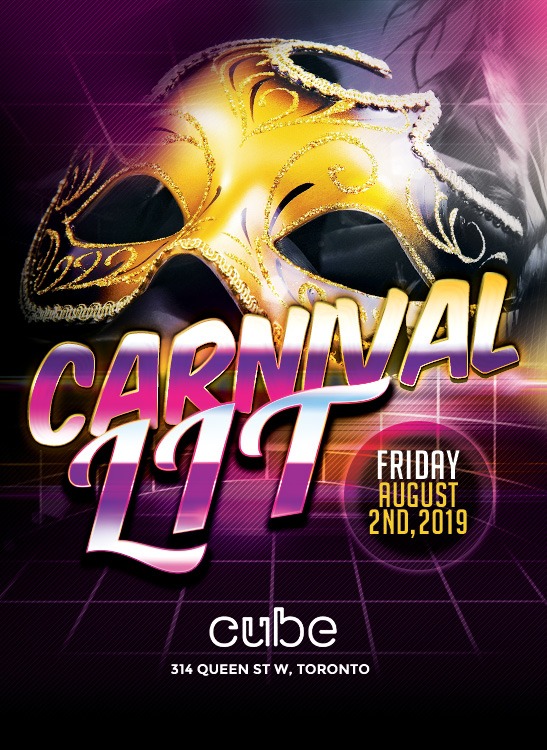 Featured on Caribana
Toronto
Ticket prices will increase July 26th pending availability.
Weekend Passes
available now!
Carnival Lit @ Cube Nightclub
This event has been moved, all tickets already purchased for this event will automatically be transferred to Set It Off at Rebel.

--
Join us Friday, August 2nd, 2019 for Carnival Lit.

Being held at Cube Night Club, with HipHop, Reggae and Soca DJs this party is sure to be lit.


It's THE Caribana party that you don't want to miss!

Address

Cube Nightclub, 314 Queen Street West, Toronto, ON, M5V 2A2

Dates

Friday August 2nd, 2019

Music

Top 40, Hip Hop, R&B, Soca

Images

Click

here

to view Caribana photos from last year.

Note

Ticket prices will increase July 26th pending availability.

Weekend Passes

available now!
Cube Nightclub Info
Escape to a voyeuristic world where the dance floor and sound, take shape as they take you over. Succumb to the next dimension of entertainment and style as Cube Nightclub unveils a provocative realm where superior design, mood and art merge to create a masterpiece of untamed sophistication.

Designed with evening mischief in mind, Cube is a nightclub experience unlike any other. Revel in the sound of premiere international DJ's, as the beat washes over you. Bask in metallic brass-laden touches, as they elude to infamous nights at Studio 54 and alter egos. Or redefine the very meaning of indulgence in Cube's bottle service booths. Trimmed in jet- black, lacquered woods and finished with lush, retro green seating; late night revelry at Cube Nightclub is a ritual.

Inspired by iconic sixties and seventies contemporary design, Cube Nightclub features nostalgic retro detailing, elegantly fused with an avant-garde approach. The space evokes a seemingly innocent world with underlying threads of tasteful eroticism. Life imitates art, curated to tempt late night frivolity as it delights with a collection of textured, risqué photographs reinterpreted in cubist fashion.

We dare you to experience the next dimension in nightlife at Cube, where entertaining is more than just an art.