Scotiabana Weekend Music Showcase and Dance Party
Saturday July 30th, 2011 @ Riva Lounge
2016 EVENT INFORMATION COMING SOON!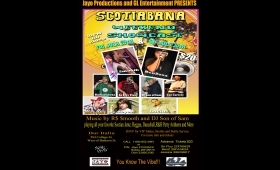 2016 EVENT INFORMATION COMING SOON!
Featured on Caribana
Toronto
The below event information is from Caribana 2015. Please note that artist appearances and other details are subject to change.
Updated information will be available between January and February 2016. We recommend that customers
like us on Facebook
or sign up for our newsletter to be notified when event details for Caribana 2016 become available.
Scotiabana Weekend Music Showcase and Dance Party @ Riva Lounge
Jayo Productions and GL Entertainment

Presents....

SCOTIABANA

WEEKEND

MUSIC SHOWCASE


Calling all Scotians!!!

You are invited to come out and support your up and coming artists.

For the first time ever in the T. Dot, Scotian singers will grace the stage with special promotional performances while Scotia's #1 DJ – R$ $mooth (88.1 FM www.CKDU.ca – Smooth Groves Every Sunday from 5 – 7:30 pm) will keep you jamming to the best in Scotian Jamz, Reggae, Dancehall, R&B, Party Anthems and More.

HOSTED BY:

Spesh K

http://speshkmusic.tumblr.​com/

SPECIAL PROMO PERFORMANCES BY:

**** Hellafactz Tha Akdaviss

www.hellafactz.org

**** Lucius Kayne

www.reverbnation.com/LUCIU​SKAYNE

**** Coo Carvery

http://www.reverbnation.co​m/itscoo

**** BenZosa

www.youtube.com/user/BenzB​kaBenzosa

**** Realeyez

www.myspace.com/realeyez08


Alongside Guest DJ Son of Sam

Stay locked for a very very special performer!!!

Photography by Andre P R Clarke of Halifaxnitelife.com

It all goes down inside the luxurious Bar Italia located at
584 College St. Downtown Toronto

Friday, July 29 and Saturday, July 30.
10 pm til Close

Greeay Day – 2 Nights



Admission: $20 each night
Limited Advance Tickets $20 for the weekend

To purchase advance tickets online - click the following link:

http://www.clubzone.com/ti​ckets/1/Toronto/203315.htm​l


RSVP for VIP Tables, Booths and Bottle Service
For more info and advanced tickets

CALL 1-800-652-2961
or
PIN: Jayo 21C04AC0
Bobby 238890E8
Relly 26796719
So Flyy 22F59A29
BenZ 26FA34D4
Jessica 26B399F7

Address

Riva Lounge, 584 College St., Toronto, ON

Area

Toronto, College Street

Dates

Saturday July 30th, 2011

Dress Code

Casual (no sportswear or hats)

Music

Top 40, Hip Hop, R&B, Reggae, Soca, Dance Hall, Live Music

Layout

150 person capacity, 2 rooms

DJ's

RS SMOOTH & SON OF SAM

Note

Weekend passes are now available for as little as $45 for 3 events. We advise that customers purchase early as passes tend to sell out in advance.
Riva Lounge Info
The Quintessential supper-lounge, Riva Lounge, possesses the appeal of both a fine dining restaurant and a plush intimate haven of a high-energy night spot. Riva Lounge is located in the heart of Toronto's trendy College Street where you can delight your senses with a Mediterranean menu, designed by Celebrity Chef Sergio Andres Fiorino.

Riva Lounge turns into the perfect night spot as some of Toronto's hottest DJ's begin to perk up. You can then stroll towards our epic lounge, where souring ceilings, state of the art sound and the sensual red hue decor will be calling for a night to remember. At Riva Lounge, you can satisfy all your senses.

Layout

150 person capacity, 2 rooms